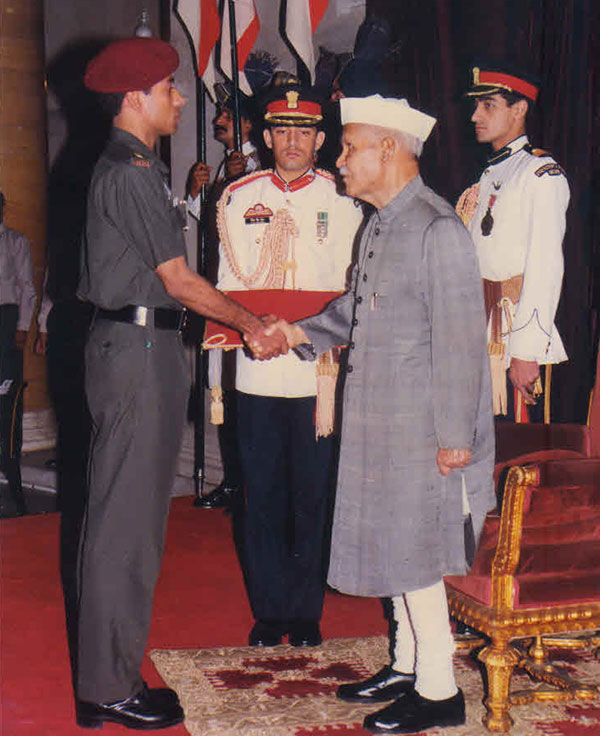 Lt Col Basil Massey, SC draws on his seventeen years experience as Commissioned Officer in the Parachute Regiment (Indian Army) leading men in the world's toughest environments in deserts, high altitude including the Siachen Glacier, jungles of north east India, valley and mountains of Jammu and Kashmir, island territory and urban/rural operations in India and Sri Lanka. Basil's last tenure in the forces was at the Army Headquarters (AHQ) as a Grade Staff Officer 1. At the AHQ, he was part of the team that effectively mobilized the Indian Army (one million+) to war time locations in 2001 and 2002 – this was the largest mobilization of the Indian Army since the War of 1971.
Basil as a young commissioned officer, underwent training at the Indian Army Commando Training School which is reputed to be one of the finest leadership training establishments in the world. The training is tough: it engenders values and standards that set the graduates up for success through the rest of their lives both in the military and civilian worlds. He successfully graduated and received the "Qualified for Instructor" grading that is awarded to a select few.
Basil has the unique experience of serving in Siachen Glacier (South Glacier, Central Glacier – Chandan and Das post) and was part of the team that established the Siachen Battle School in 1988. Within fours days of de-induction from the Central Glacier, he deployed to Sri Lanka (Jaffna) to join the 5th Battalion, Parachute Regiment in Operations and simultaneously (when there was a pause in operations) underwent a grueling probation to be accepted by the Regiment. This was a journey of dreams, faith, being adaptive and most important mental mobility. As after spending six months at an altitude of 20,000 feet in rarefied atmosphere on the glacier the body weakens, and a soldier normally loses 5 to 10 kg weight in a three months tenure. Here, Basil learnt that success happens twice – first in your mind and then in the field of action.
In 2003, Basil left the army after an extremely satisfying professional career and joined the United Nations. He served in Afghanistan (two tenures), South Sudan, Sudan and Thailand. During his United Nations tenure, he was deployed on short/long missions to Belgium, Fiji, France, Ghana, Japan, Nepal, Malaysia, Morocco, Norway, Philippines, Qatar, Sweden, Switzerland, Tunisia, UK and USA. While in Afghanistan (2013 to 2015), Basil used to reside in "Hotel Serena" in Kabul. During his stay in 2014, the hotel was attacked by terrorists resulting in the death of nine hotel guests. This was another experience (of nine hours) for Basil as UN staff and had to make decisions that would be best for his survival.
In between his UN stints, he worked as a consultant in many fields to private sector, UN, training institutions and Governments. Basil's experiences are unique – experience in combat, Army Headquarters, international civil servant/diplomat, NGO volunteer, private sector and faculty member in training institutions. The decisions that he had to make have informed and influenced international/national decision making. He skillfully applies this decision-making experience to his inspirational leadership talks, youth and corporate audiences on strategy, leadership and high-performance teams in situations of confusion, stress and ambiguity, which he believes has strong parallels with business.